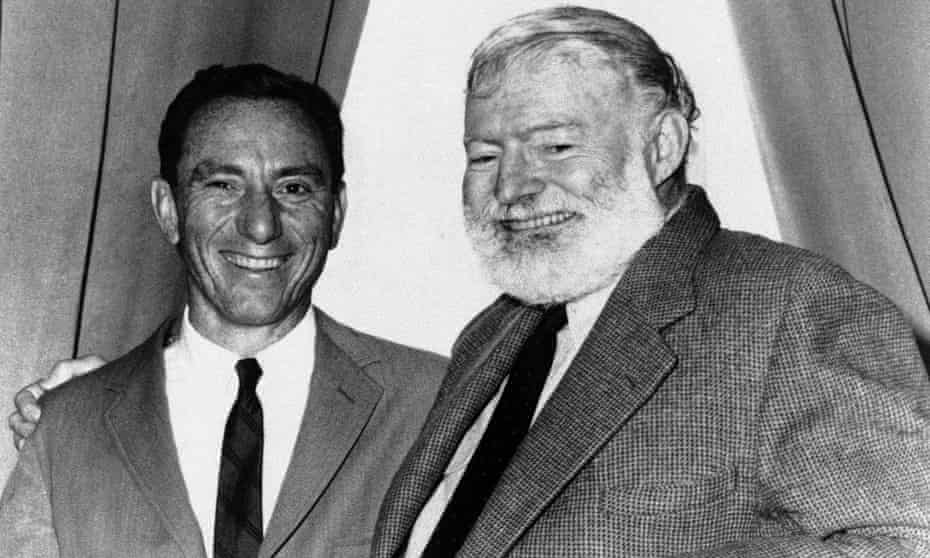 The mention of Ernest Hemingway's name for most people today, may bring to mind a novel they may have read in high school, beyond that, they may be familiar with some trivia tidbits about his life which could be worthy of their own category on the game show Jeopardy. But during his life time, his name was omnipresent and synonymous with great writing.
Hemingway in Love His Own Story, published in 2015, was a book I've been meaning to read for quite sometime having read much about his life including Hemingway's own memoir A Moveable Feast. But reading Hotchner's memoir, while interesting and adding a few more pieces to the puzzle which is Hemingway's life, does not adequately leave the reader with a better understanding of Hemingway's complex relationships with the women in his life. Knowing what had been written on the subject of his wives and female friends, I looked forward for a further explanation – why did he really leave the women he believed he was in love with? The fourth and final marriage he exited by suicide. To be clear, the suicide was not because he was unhappy with that final marriage, but from all accounts it was from a deep depression, possibly a hereditary disposition since his father had also committed suicide years before.
While his stories and novels are regarded as among the best in literature, accounts of his life can leave one thinking he was not exactly the most sensitive man when it came to his treatment of others, especially his first three wives. His sensitive writing however, characterized by succinct and powerful sentences, seems now to have been in juxtaposition with his alpha male persona. A drinker, a big game hunter and fisherman, and a womanizer – or it could be said a lover of many women, four of which he married. How does one reconcile the way he lived to the way he wrote? Does Hotchner's memoir provide any further clarity on the relationships with his wives?
The second question posed is more easily answered with a simple, no. While the memoir does provided some further detail on how his life experiences were woven into his writings, much of what was covered about his love life, was already known, with the exception of details regarding his third marriage to Martha Gellhorn, an acclaimed writer and war correspondent in her own right. Of the four wives, she stood out not only as a peer to him, but showed great courage and determination in covering WWII events, having the distinction of being the only woman on the beaches of Normandy on D Day, and being one of the reporters reporting from Dachau concentration camp after its liberation. To this day, the deeper reasons for that failed marriage are not clear. It could, however be the obvious – the competitiveness between the two was too intense, and/or, his desire for a traditional, be-at-home-when-I-get-there, wife. Based on the timing of Hemingway's death, Hotchner probably never had the chance to ask about Gellhorn, since Hemingway took his own life shortly after being released from a psychiatric hospital. Hotchner saw him for the last time two weeks prior, in the hospital, before his release. All the same, it would have been interesting to read Hemingway's own explanation on that particular relationship and what he thought led to the divorce from Gellhorn, the one wife who seemed to share so much in common with him.
The first question with regards to reconciling his sensitive writing to the insensitive, self-destructive life he lived, may also be simply answered: those to facets of his life are not reconcilable. In reading Hotchner's memoir of Hemingway, the hope was to find some clarification that the writer, admired by many, had justifiable reasons for exhibiting behaviour that alienated many friends and the women he loved. It did however, explain how some details of his own life experiences were woven into his writings, such as in the The Snows of Kilimanjaro where many similarities can be drawn between Hemingway and his second wife, Pauline; and in Ten Little Indians where he recalls, as a young boy, being present as his father, who was a doctor, performed a caesarian section to deliver the baby of an indigenous woman. The stories are drawn from his real life experiences which he masterfully describes. That is the unique sensitivity he brings to his writing.
The insensitivity in his behaviour can be seen on many occasions. One particular referenced in the memoir involves the release of his first novel The Sun Also Rises, where he presents copies to his friends and they turn on him saying they recognize it was them being depicted in the novel under different names, and in a not so flattering manner. His friends feeling betrayed, turn on him. Because he fails to see why they should be offend, he fires back with insults effectively ending the friendships.
One other passage in the memoir describes how he was insensitive to what his first wife Hadley was going through when she was "sharing" him with the woman who later would become his second wife. Hadley finally announces she was going to leave him after months of this arrangement. He recalls that period with this quote:
"I thought Hadley and I had been getting along all right, she was putting up with my seeing Pauline, but I found out I was deluding myself."
And later he states:
"I wasn't prepared for this. I loved her and now she was defending her dignity and I couldn't be the one to take it away from her."
He didn't see it coming. Dignity. Some would say the dignity was taken away when he expected Hadley to accept Pauline as his other lover while still living together as husband and wife. And after the marriage with Pauline was over he acknowledged:
"Pauline was just a mistake, that's all."
But this is all personal and as much as we want to avoid judging how one leads their life, a memoir entitled Hemingway in Love His Own Story, cannot be read without some opinions, positive or negative, being formed.
Being sensitive in life and writing with sensitivity are not always reconcilable or comparable. The former is living as one would not expect from an alpha male such as Ernest Hemingway. The later is being able to express how life is lived in relatable, sensitive stories in tune to the reader's own sensitivities.
"Write one true sentence." He would say that was his goal when writing and the words were not flowing easily. But, as writing could sometimes be a struggle, so could life and love. Was the struggle to find that one true love successful? Of the four women he married, was that one true love among them?